Garmin City Navigator Maps - Turkey
Garmin City Navigator Maps - Turkey

Micro SD/SD

Navigate the streets of Turkey with confidence. This product provides detailed road maps and points of interest for your compatible device, so you can navigate with exact, turn-by-turn directions to any address or intersection. Route to restaurants, gas stations, lodging, attractions and more.
Includes full country coverage for Turkey.
Includes motorways, national and regional thoroughfares and local roads throughout the country.
Displays points of interest throughout the country, including restaurants, lodging, attractions, petrol stations, shopping, ATM/cash stations and more.
Gives turn-by-turn directions on your compatible device.
Enhances pronunciation for compatible units that speak street names (example: "Turn right on Main Street").
Includes navigational features, such as turn restrictions, roundabout guidance, speed categories and more.
Contains traffic data for compatible devices that use traffic receivers.
About Coverage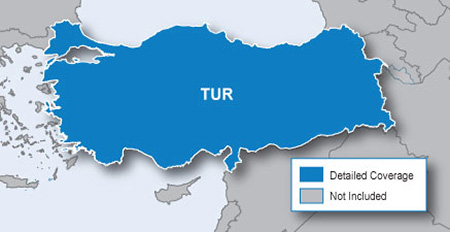 Includes detailed maps of Turkey
This Garmin Map is compatible with the following devices:
Colorado 300
Colorado 400c
Colorado 400i
Colorado 400t
Dakota 20
Edge 605
Edge 705
Edge 800
eTrex Legend Cx
eTrex Legend HCx
eTrex Venture Cx
eTrex Vista Cx
eTrex Vista HCx
G60
GPSMAP 60CSx
GPSMAP 60Cx
GPSMAP 620
GPSMAP 62s
GPSMAP 62sc
GPSMAP 62st
GPSMAP 62stc
GPSMAP 640
GPSMAP 76CSx
GPSMAP 76Cx
GPSMAP 78
GPSMAP 78s
GPSMAP 78sc
GVN 52
GVN 53
nüvi 1100
nüvi 1100LM
nüvi 1200
nüvi 1250
nüvi 1260T
nüvi 1300
nüvi 1300LM
nüvi 1350
nüvi 1350LMT
nüvi 1350T
nüvi 1370T
nüvi 1390LMT
nüvi 1390T
nüvi 1450
nüvi 1450LM
nüvi 1450LMT
nüvi 1450T
nüvi 1490LMT
nüvi 1490T
nüvi 1690
nüvi 200
nüvi 200W
nüvi 205
nüvi 205W
nüvi 2200
nüvi 2250
nüvi 2250LT
nüvi 2300
nüvi 2300LM
nüvi 2350
nüvi 2350LMT
nüvi 2350LT
nüvi 2360LMT
nüvi 2360LT
nüvi 2370LT
nüvi 2450
nüvi 2450LM
nüvi 2460LMT
nüvi 2460LT
nüvi 250
nüvi 250W
nüvi 255
nüvi 255W
nüvi 260
nüvi 260W
nüvi 265T
nüvi 265WT
nüvi 270
nüvi 275T
nüvi 285WT
nüvi 295W
nüvi 3750
nüvi 3760LMT
nüvi 3760T
nüvi 3790LMT
nüvi 3790T
nüvi 465LMT
nüvi 465T
nüvi 500
nüvi 550
nüvi 750
nüvi 755T
nüvi 760
nüvi 765T
nüvi 770
nüvi 775T
nüvi 780
nüvi 785T
nüvi 850
nüvi 855
nüvi 880
nüvi 885T
Oregon 200
Oregon 300
Oregon 400c
Oregon 400i
Oregon 400t
Oregon 450
Oregon 450t
Oregon 550
Oregon 550t
StreetPilot 7200
StreetPilot 7500
StreetPilot c310
StreetPilot c320
StreetPilot c330
StreetPilot c340
StreetPilot c510
StreetPilot c530
StreetPilot c550
StreetPilot c580
StreetPilot i2
StreetPilot i3
StreetPilot i5
zūmo 220
zūmo 450
zūmo 550
zūmo 660
zūmo 665